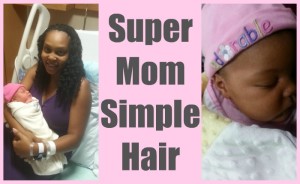 I really enjoy being a Mom.  I have a toddler and a new infant.  During the week I am busy homeschooling my toddler while balancing
household chores, caring for a new infant, and working part time on weekends.  Who has time for hair? With the addition of another child keeping my natural hair care super simple has become a priority over style. Several people have asked if I am going to perm or straighten my hair to make it easier, however now is one of those time that I am particularly grateful for my natural kinks.
For me my natural hair is easier right now than I remember my relaxed hair being.  My  natural hair is in braids that I did on my own using my natural hair. Here is a picture of me in the hospital the day after giving birth
Right now I plan to keep my  natural hair in braids for the next few months, maybe even the rest of the year.  With my hair in braids my hair tangles less and is extremely easy to manage.  In my quest to be a super mom I need super simple styling. My natural hair care routine is simple:
1) Moisturize and put my individual braids in 4 big braids at night, this helps maintain the "curly " look and keeps my ends from tangling.
2) In the morning I undo the braids.  When I'm around the house I keep it in a ponytail or bunned.  On the weekends I typically where the braids with the ends loose.
3) I wash and condition my hair with the braids in.  This makes it so easy for me to get my scalp clean and has cut my time down on shampoo day to about an hour.
4) I redo my braids gradually, meaning I take down and rebraid a few braids at a time. I redo my braids while nursing the baby, once the kids are in bed, or even while sitting on the "John". This way my hair is never completely undone.
So my focus right now is on being super mom, not perfect but the best I can be because that is the season I am in right now.  I still want to have healthy hair so I have adjusted my routine and you can do the same.  I will continue to post updates on the styles I am trying to keep my hair healthy while minimizing the time I spend on my hair.