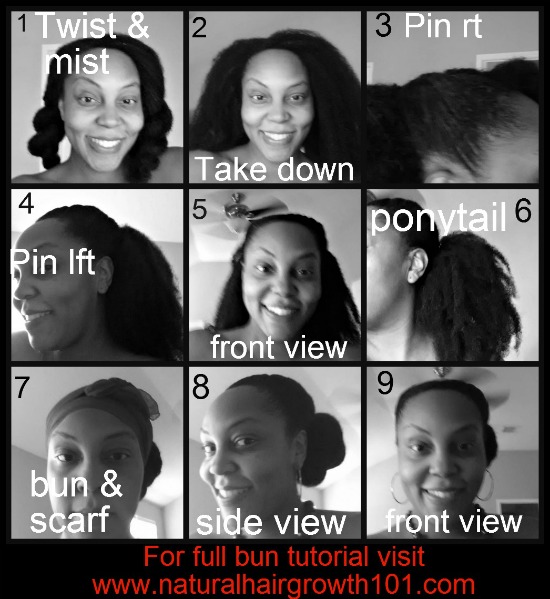 Several people have asked how I wear my natural hair in between my 2 week washings.  This is a simple natural hair style that I wear quiet frequently to work and around the house.  It is quick and it is also a protective style.  This style can easily be adapted for shorter hair.
1) Put hair in 3- 6 large twists (this is to prevent shrinkage), mist hair with water in shower or w/a spray bottle
2) Remove twists and part hair as desired.  (I put the greater amount of hair on my left side)
3) Smooth hair with hands and a small amount of gel. Tuck and pin using jumbo bobby pins on the right side.
4) Repeat on left side.
5) You can wear your hair with the ends loose as pictured if desired but you may want to apply a product such as Curly Pudding or Kinky Curly Custard to help with shrinkage.
6) Secure hair with a banana clip.  You can use a ponytail holder but I personally like to use clips.
7) Bun hair and secure with bobby pins.  Tie hair down with a scarf to help smooth edges.
8) & 9) Remove scarf & you're done!