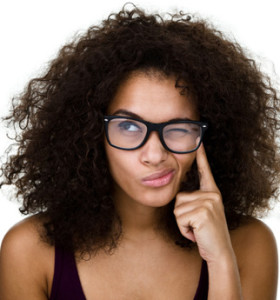 Not sure what to do with your hair? We all experience it, ladies. Ready for a new hairstyle but scared how it will look on you? If you follow me on Facebook and Instagram then you know that I recently cut my hair and I'm loving it!  Maybe you're not quite ready to make that change but thanks to technology, we now have apps that can help us with our decisions. If you're having second thoughts about cutting that gorgeous hair a little shorter, here are three apps that you may want to check out first.
InStyle's Try-On
"Beyonce's hair looks dazzling!" If you like following hairstyles of your favorite celebrities, Instyle's Try-On is for you. It allows users to smartly pattern their face after a star's hairstyle. There are over 500 styles to choose from, all of which are regularly
updated for users to see the latest trends in Hollywood. If you're planning on getting a new cut, take this app and show it to your stylist to give him or her a better idea of what you'd like. It will also allow the stylist to make certain adjustments depending on the shape of your face.
Hairstyle Makeover
Hairstyle Makeover is like the Facebook of hair buffs. If you want to be part of a community that talks about the trendiest haircuts today, download this app! You can also find stylists in your area that you can hire, or visit the salon they're working at. There are hundreds of haircuts uploaded for inspiration every week so you'll never run out of ideas for your own style.

Glam Booth
Want to take a trip down memory lane? 80's hairstyles rock, and there's nothing wrong with looking old school. Whether you want to have Cyndi Lauper's messy tresses or an afro to sport for a disco gala you're planning to attend, you'll find it in Glam Booth. You can even share your hairstyle ideas to your friends on Facebook to get second opinions!
The best thing about these apps is that they're free! Gaming Realms, an specialist in software development and licensor of slot gaming site Pocket Fruity, implies that the development and inexpensiveness of apps can be attributed to the large number of mobile consumers, offsetting the costs of said apps with quantity. With technology growing at a faster rate than ever, we'd probably see more high-tech apps pertaining to hairstyle in the future. Perhaps we'll have holographic images of hairstyles that we can hover over our heads? We'll never know!
I played around with the apps. How do you like me as a blond?
I think I'll stick to my fro!