Proper scalp care is an important part of growing long healthy hair.  Neglecting your scalp can directly impact your hair growth.  Basic proper scalp care includes cleansing the scalp regularly by shampooing, cowashing, or using alternative cleansers and keeping the scalp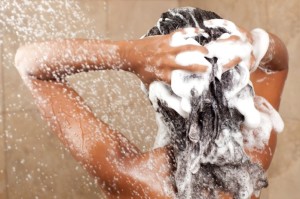 moisturized.
Scalp Massage helps to grow hair by stimulating blood flow to the scalp.  Some research also suggests that scalp massage can help prevent thinning and shedding. You can massage in the shower while washing but I find this difficult.  I prefer to massage my hair while dry. Here are a few tips and tools to help you get started.  Add scalp massage to your natural hair care routine today.
Tools for Massaging the Scalp
The Morocco Method Scalp Massager.  Unlike some other tools it is made of all natural materials.
Tingling Scalp Massager. These can feel great on the scalp! For thicker hair put it in braids or twists.
Massaging Hair Brush.  Some people really love the feeling of this brush by Body Essentials on the scalp.  Use it only for massaging though, not styling.
Homedics Mini Massager.  These can be used all over the body but can also be perfect for massaging the scalp.  The vibrations on this one aren't too strong and may work perfect on the scalp without the user having to apply a large amount of pressure
Of course you can use your fingers or have someone massage your scalp for you!




 Scalp Massage Tips
Massage the scalp in small circular motions.
If your hair is very thick or dense consider putting into large twisted sections to make massaging easier.
Apply an essential oil like peppermint and grape seed oil directly to the scalp before massaging.
Apply a mild to moderate amount of pressure based on your scalps sensitivity. Massaging too roughly can lead to soreness.
Do not rake the tool you are using to massage your scalp through your natural hair, this can lead to breakage. Focus on the scalp.
For results try massaging for a minimum of 3 minutes 3x per week.
Related Articles on scalp care: Why Dirty Hair Grows