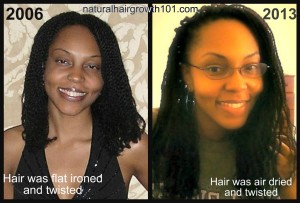 Sometimes I look in the mirror and my hair just doesn't look or feel long to me anymore.  I think I'm just so used to it.  Also with shrinkage my natural hair honestly looks about the same length it did 6 or 7 years ago.  I'm sure some of you all have been through the same thing.  Natural hair doesn't always show length the same way.  That's why I think taking pictures is such a great way to track your natural hair growth.  When I really looked at these pictures of my twists I was surprised how much my hair has really grown.
In the first picture my hair had been flat ironed.  Back then I always flat ironed or blow dried my hair first to make my twists show length.  I think second pic my hair was air dried and I am amazed at how long it looks.  I rarely use heat on my natural hair now and it has just continued to flourish and retain length.  When I look back I think the heat was contributing to my breakage and prevent hair growth.
If you're feeling discouraged about your  natural hair growth please start taking pics to track it if you aren't already.  Stretch, straighten, or twist your hair to get a better idea of the length.
Check here to see the regimen I used to grow my natural hair to waist length!