Over the years I have often considered letting go of my fro and locing my natural hair.  However after much consideration and research I realized that locs require quite a bit of work and time to maintain just like loose hair.  I have met women with natural hair who decide to loc to make hair care easy, but growing long healthy locs requires proper maintenance and a good natural hair care routine.
Here are a few tips I have gleaned from women I know with beautiful locs:
1) Shampoo/ Wash Regularly.  Locs need to be properly cleansed and your scalp in particular needs to be washed to stay healthy. Try the Knotty Boy Shampoo Bar for gentle but thorough cleansing of your locs. Be sure to allow your locs to dry thoroughly as leaving them wet too long can lead to serious issues.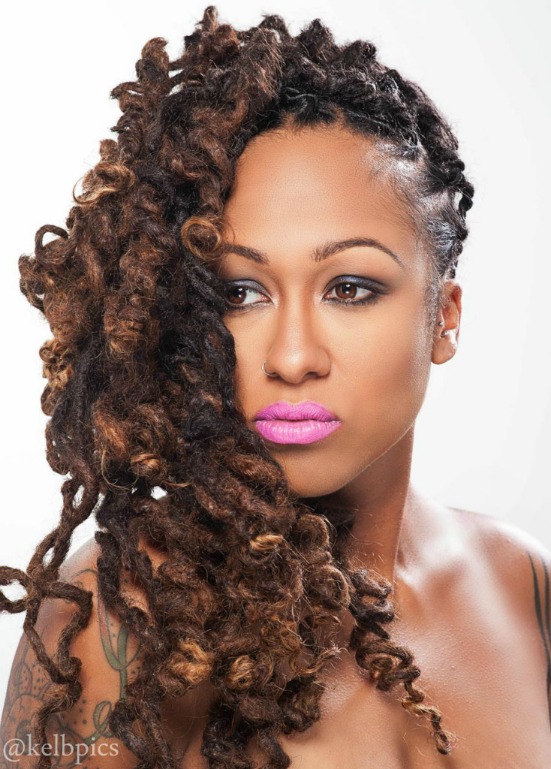 2) Use light oils and conditioners. Conditioning won't ruin your locs, just stay away from the super heavy products.  Dollylocks conditioning oil is a light conditioner that also has antibacterial properties. Keep your locs healthy with oils and conditioners that have natural ingredients.
3) Wear a satin scarf or use a satin pillow case at night.  Friction can damage your locs just like loose hair.  Additionally with locs they can attract lint in particular and it can become hard to remove.  Step up your night time maintenance for healthier locs.
4) Have fun with styling.  Wearing locs doesn't mean you are limited in your styling options.  There are plenty of beautiful styles you can do with locs.  Try dampening and braiding them or setting your locs on rollers using styling lotion. Avoid pulling too tightly and damaging your locs.
Photo courtesy of Kelvin Bulluck https://kelbpics.wordpress.com/2015/02/15/coquine-the-beauty-of-kinky-hair-realized-part-1/